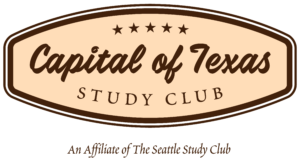 The Capital of Texas Study Club is an affiliate of the prestigious Seattle Study Club®, a leader in the field of dental continuing education. The Seattle Study Club® encompasses more than 250 Study Clubs worldwide and over 6,700 members.
The Seattle Study Club® curriculum integrates all areas of dentistry, including oral surgery, orthodontics, endodontics, and restorative dentistry to ensure that members are well-versed in promoting excellence in total patient care. Patients of The Capital of Texas Study Club participants may be reassured to know Lake Travis Oral Surgery and Bastrop Oral Surgery have made a commitment to excellence in treatment planning and total case management, as well as interdisciplinary care for their patients.
If you would like to inquire about membership, please contact:
Vanessa Willie (Coordinator) at 512-632-0808 or captexasstudyclub@gmail.com.
Click here to view Upcoming Events!